IF YOU OWN A PS4, YOU NEED THESE GAMES!
Remember when the PS4 first came out? There were hardly any great games released for the system and it took a couple of years before there was a handful of good games. The PS4 now has some of my favourite games of all time, there may be fewer games than the past console generations, but from the lack of quantity, there is amazing quality.
This is going to be a very difficult list for me, as all these games are absolutely brilliant and close to a 10/10. Please bear in mind, I haven't played every game on the console and there are still a couple of critically acclaimed games I am yet to play which are:
Red Dead Redemption 2
Yakuza Kiwami 2
Horizon Zero Dawn
Persona 5
I know, that they are highly claimed games, I just haven't got round to playing them yet and there will most likely be an updated list in a year or two when I think there is a big enough shift in the list. For now, these are my top 10 games on the PS4! Before we begin here are some honourable mentions:
Yakuza 0
Hotline Miami 2
Alien Isolation
Dark Souls 3
Uncharted 4
Dragonball Fighterz
Fallout 4
Until Dawn
Injustice 2
Final Fantasy 15
Elder Scrolls Online
Now, let's start:
10. Evil Within 2
When Evil Within 1 came out I was incredibly excited. The game looked like the sequel that Resident Evil 4 deserved, made by the same creator, what could go wrong? Quite a bit actually, though still a strong game, Evil Within 1 was very flawed; which is why when Evil Within 2 came out I didn't bother playing it. After a lot of research and reading/ watching reviews about a year later I gave Evil Within 2 a chance and thank God I did. Evil Within 2 is the perfect blend of horror and action and it genuinely feels like the spiritual successor of Resident Evil 4. With tons of scares, intense moments and a good story to boot, Evil Within 2 is a great horror- action game for anyone to play.
9. Batman Arkham Knight
Although not as good as Arkham Asylum or Arkham City, Batman: Arkham Knight is a solid Batman game. The game has some of the best fighting mechanics there is in a sandbox action-adventure game and the graphics are absolutely insane! Is the Batmobile in the game too much? Yes, but there is no denying this is still one of the best open world games on the PS4.
8. Mortal Kombat X
Anyone who knows me knows that Mortal Kombat is my favourite game series ever. Mortal Kombat 2011 is my favourite and because of this Mortal Kombat X was perhaps my most hyped game that has come out this console generation. Although the story was not as strong as the previous game and there was not as much content, the game has the best fighting system of the series and has the best fatalities ever. I really hoped that Mortal Kombat 11 would be coming out next year and although that doesn't seem to be the case, Mortal Kombat X can at least keep me slightly content until then.
7. Crash Bandicoot N'Sane Trilogy
Anyone else see the MediEvil remake coming next year? Or the Spyro remake coming this month? Well if it wasn't for Crash Bandicoot N'sane Trilogy this would have never been possible. This game is up there with Resident Evil ReMake as one of the best remakes ever. Every single mechanic and level is redone to perfection and made me cry out for Crash Team Racing and Crash Bash to be remade. If you haven't played this game, even if you have not played the originals, I urge you to play this game!
6. Doom
Speaking of remakes; Doom is a heavy metal masterpiece. This is my favourite first person shooter ever! The slickness and speed of the gameplay is like no other and the demon and enemy design is gorgous. I cannot wait for the sequel to come out next year, it is going to be absolute madness!
5. Bloodborne
The games within the Souls series are all modern classics. Dark Souls 1 is easily the best, Bloodborne is the closest to capturing the greatness of that first game. The combat is hectic and fast-paced, the atmosphere is intense and the game will suck hours of your life away. With a combination of Victorian and Lovecraftian horror; Bloodborne is a masterpiece in action horror gaming and has remained in the top 5 Ps4 games since it's inception.
4. God of War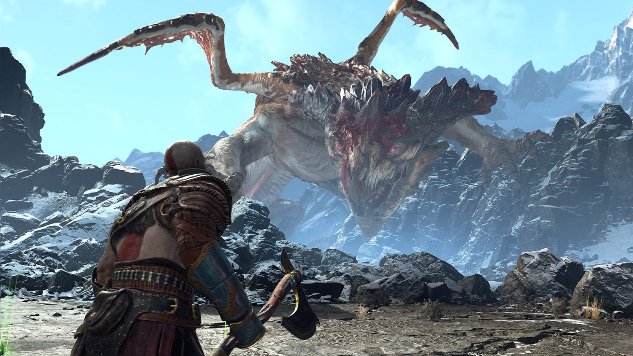 Wow, this year has been incredible for amazing games. I still haven't got round to playing Red Dead Redemption 2 along with the fact that Spyro Reignited Trilogy and Fallout 76 are coming out soon! This year and next year are setting up the PS4 to be the best console of all time! God of War started off this trend, the series has been upon my favourite game series for years now. This re-invention captured the scope of the original trilogy but added in a depth which was much needed in today's standard for storytelling. The graphics are the best I have seen on the console and the gameplay – although simple, is wonderfully creative. I'm sure every PS4 owner has played this by now, but if you haven't, you need to!
3. Spider-Man
The best superhero video game ever made? Maybe… the only competition is Batman Arkham Asylum. Spider-Man for the PS4 is the first game that I've completed 100% for a very long time. Just swinging through the city is highly addictive and the game makes you want to complete everything due to the number of unlockables in this game! The story is as good, or even better than the films and the city is the best New York we've seen in video games. If all the Marvel video games from now on are going to be this good, then next time I do this list is going to be even tougher.
2. Resident Evil 7
When I first played this game, I had never felt anything else like it. The intensity of the first hour is brilliant and the game finally brought Resident Evil back to horror. The game is short and sweet, cutting out any of the stupidity of the last few titles and keeping in all the best parts. It felt as though the first game was in first-person, mixed with Texas Chainsaw Massacre. Thankfully this game received great reviews, which I think is the reason we are finally getting the remake of Resident Evil 2.
1. Witcher 3
What else could it be? Perhaps the best RPG ever made; The Witcher 3 is a masterpiece. The world is full of the best side quests I have ever seen, the graphics are still beautiful (even three years later), the monsters are excellently designed and it gave us Gwent! What else could you want? The best game DLC ever? Yep got that. A thrilling story? Got that too. Hundreds of hours of content? You guessed it, it has that too. Witcher 3 is easily the best game released on the PS4.  
There we have it, the top 10 PS4 games I have played. This is obviously going to be different to any of your lists, so please let me know yours! Will, this list change this time next year due to the amount of quality looking games coming out? Maybe, if that is the case, then expect an updated list then! Here is a list of games that could potentially make their way on this list when I've played them:
Red Dead Redemption 2
Spyro Reignited Trilogy
Fallout 76
Resident Evil 2 Remake
Devil May Cry 5
Doom Eternal
Ghost of Tshushima
Sekiro Shadows Die Twice
Cyberpunk 2077
Kingdom Hearts 3
Medievil Remake
Final Fantasy 7 Remake
That's a lot of possible games! Enough to make another list… Thanks for reading! Follow my blog for more posts like this.