There is no denying that The Joker is the most popular comic book villain of all time. He has been studied and analysed for years and many writers have tackled his deep character. His personality is always different depending on the writer, but there is one personality trait which is always the same, he is a very sick individual. In this list we're going to count five times The Joker did some very disturbing stuff and probably gave Batman many nightmares.
HE KILLED THE SECOND ROBIN.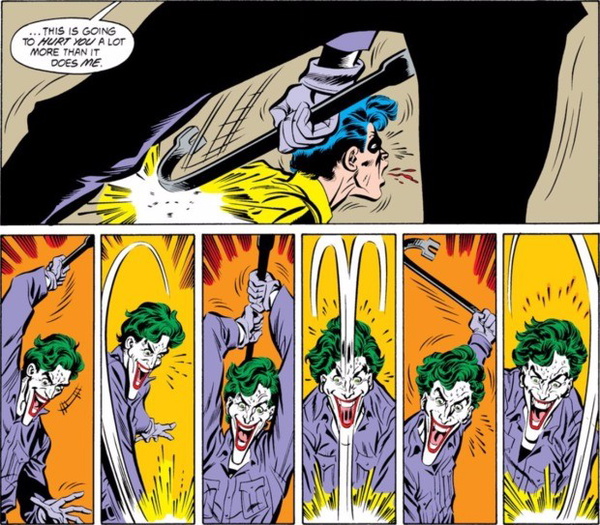 One of the most infamous Batman events ever; Batman a Death in the Family was a controversial book for the time. Jason Todd was the second Robin and was grinding reader's gears because of his disobedient behaviour. At the beginning of this story, Jason Todd goes on a search to find his real mum and goes to countries to find her. She betrays her son to The Joker, The Joker then continues to beat Jason with a lead pipe and leaves him and his mother to die in a warehouse, with a ticking time bomb. After that, DC released a poll, leaving it up to fans if Jason would die, or survive the explosion, ultimately the readers chose death for poor Jason. The front cover of Batman holding the dead Robin's body will be engraved in the memories of all Batman fans, and this would continue to haunt Batman for years.
JOKER SKINS A PERSON.
What could be worse than beating Robin half to death and then blowing him and his mother up? Well, skinning a man probably is. In this twisted one-shot graphic novel; Joker, we follow how sick and twisted The Joker is. The most sickening part of this story is when Joker skins this grown man, Ceaser Romero's Joker this is not.
JOKER SNAPS HIS NECK WHILE LAUGHING.
The Dark Knight Returns is the most famous Batman story there is. Since Batman's retirement, Joker was silenced and no longer committed any crimes and served his sentence in a mental asylum peacefully. That was until Batman came back and Joker finds out, so goes on a killing spree. Batman and Joker have a brutal fight until Batman breaks The Joker's neck just enough so that he cannot move, but would still live. Joker is not satisfied with this though, so he breaks his own neck while laughing hysterically, dying next to Batman with a horrible smile.
HE MADE ROBIN THE NEXT JOKER.
Batman Beyond Return of the Joker is an excellent animated film, but the part which sticks in most people's minds is this horrific scene. The Joker had kidnapped Robin, so Batman (thinking he'll be there on time and save him) arrives. He soon finds out from a disturbing home video that The Joker had been performing horrible experiments on Robin, and has transformed him into a Joker child. These ten or so minutes came out of nowhere and definitely, is one of the worst things The Joker has ever done. This affected Batman deeply in the Batman Beyond animated series.
HE TRICKED SUPERMAN INTO KILLING LOIS LANE AND METROPOLIS CITY.
Injustice was an amazing fighting game. The story was great, the beginning of this story though, in my opinion, is the most disturbing and twisted thing the Joker has ever done. Being bored of torturing Batman and his friends all the time, Joker thought he would torment the most powerful man in the world; Superman. During a fight with a lot of villains, Joker infected Superman with Scarecrow's gas, making him think that Lois Lane was Doomsday. Superman brings who he thinks is Doomsday up to Space, to get him away from civilians, only to learn in a twisted fate that it was actually his pregnant wife; Lois Lane. If that wasn't bad enough, Joker had a trigger linked to her heartbeat, so that once it stopped the whole of Metropolis would be blown up, therefore killing nearly everything and everyone that Superman loved. Truly horrible, this scarred Superman so much that he went to kill The Joker, then start a regime which formed the brilliant Injustice storyline.
I think that these five disturbing acts show why the Joker is infamous for being the best comic book villain there is. He is twisted, disgusting, but is so interesting and entertaining to read and watch, he will always be the best comic book villain of all time.